Hi there,
How nice of you to bring a visit to my website.
I'm Jelger,
I'm located in the Zaanstreek which is just north of Amsterdam, the Netherlands.
I spend most of my free time enjoying life and finding ways to enjoy my life. And of course do work I enjoy to support this way of life. Also, my kitchen is famous among friends and family but that's another story.
Enjoy, experience, learn and discover, and then put it to use by sharing it with others. This can be the advice not to forget your thermal underwear, where to find a fantastic beach, a gem of a restaurant or sharing knowledge gained through work.
I've had the privilege to work on some amazing projects and for some fantastic clients and employers in the past several years. And apart from that I played a role in a rollercoaster of an adventure of an innovation award winning tech startup. Currently I am looking for a new and inspiring work environment!
I'm a creator and I like a challenge.
So lets enjoy creating something together and shape
the stories that people are telling about you!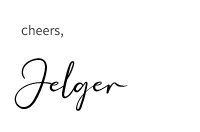 LEVI, FINLAND, LAPLAND 67°47'18.7″N 24°51'12.6″E
NAZARÉ, PORTUGAL 39°36'39.8″N 9°05'07.8″W